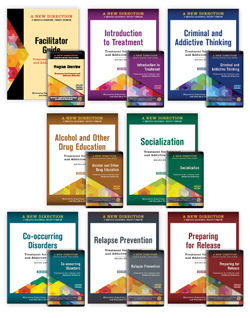 Guide Clients into a Renewed Future of Hope and Recovery
Two-Day Virtual Training
All trainings are held 9 a.m.-4:30 p.m. Central
"The insight from all the participants and the facilitator was a great collection of knowledge and experience to draw from to use this program with fidelity in my workplace."
—Training Participant
13 CEs
for the following boards:
National Board for Certified Counselors (NBCC)
Association of Social Work (ASWB)
California Counselors and LMFT (CAADE,CCAPP, CADTP)
California RN's (CA BRN)
Cost is $1,795/participant for training, facilitator guide and one copy of each of the seven corresponding workbooks.
Reduced rate: $1,495/person for groups of 3+ from same organization.
Free shipping for purchase of training, facilitator guide and workbooks. Taxes still apply.
---
Reduced relapse rates. Reduced recidivism rates. Greater recovery meeting attendance. Healthier thought patterns.
Justice-involved clients deserve the opportunity to experience all of this and more. And with A New Direction, their chances of overcoming substance use disorder, finding success in recovery and effectively re-entering society are significantly increased.
I've purchased A New Direction. Why do we need specific training?
When implemented effectively, A New Direction has the power to change the outcomes for justice-involved clients. The Iowa Department of Public Health (IDPH), Division of Behavioral Health, found that six months after entering a treatment program that implemented A New Direction:
95.7% of the successfully discharged clients (completed the entire program) were abstinent
97.9% had not been arrested
53.2% were working full- or part-time
95.9% said they felt that the jail-based treatment program was either very beneficial or beneficial overall
During our A New Direction training, our expert trainer will walk participants through this comprehensive cognitive-behavioral therapy treatment program, giving your staff the greatest opportunity to deliver targeted treatment that enables a participant to recognize and overcome criminal and addictive thinking.
Training Objectives
During this two-day workshop, the trainer will:
Describe the principles of using a CBT-based curriculum focused on substance use and criminality and the integration of developing a therapeutic community
Teach skills to implement and deliver A New Direction to justice-involved clients who have substance use or co-occurring disorders
Provide interactive scenarios with in-the-moment feedback from an experienced trainer
Deliver expertise to help you develop program-level implementation plans
Call 1-800-328-9000 to register.
I haven't purchased A New Direction. What is it?
Created in partnership with the Minnesota Department of Corrections, A New Direction is a flexible, evidence-based, cognitive-behavioral therapy (CBT) curriculum that treats substance use disorder in justice-involved clients and is proven to reduce recidivism. The updated and revised curriculum is divided into seven core topics, with all new companion videos and a facilitator guide to better serve clients.
The A New Direction program is:
Updated and Revised
The best-selling curriculum has been updated and revised to present seven core topics in a positive, easy-to-understand way. New exercises include Quick Reviews and personal reflections to encourage behavior change.


Easy to Understand
A New Direction uses a strengths-based instructional approach with inclusive language and grade 6 readability.


Flexible and Customizable
Build the treatment plan that meets your clients' specific needs. Implement the full collection of seven workbooks, companion videos, and the Facilitator Guide, or choose the modules that will most benefit each of your clients.


Evidence-Based
Participating in a substance use disorder treatment program significantly reduces recidivism in justice-involved clients, according to a study by the Minnesota Department of Corrections.
Call 1-800-328-9000 to register.
Thank you for your interest in the A New Direction program training. Even more, thank you for your commitment to helping foster recovery in your community. To learn more about the training and customization options, please fill out the form and a Hazelden Betty Ford representative will contact you shortly.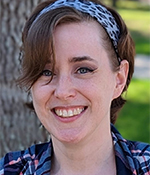 About the Trainer
Klementyna (Ky) Weyman, LCSW, Trainer for the Consulting and Training Team at the Hazelden Betty Ford Foundation
Klementyna (Ky) Weyman is a Licensed Clinical Social Worker from the state of Florida. Her work in direct practice has focused on program development and implementation of evidence-based practices for co-occurring disorders, with particular focus on young adults. She also has a passion for teaching, with experience training clinicians in risk assessment and crisis intervention. Her current areas of interest include finding synergy between evidence-based treatment modalities for mental health, substance use, and co-occurring disorders, implementation and organizational change processes, and integration of care across providers and treatment delivery systems. She is a graduate of Tufts University, and the University of Central Florida.
Questions, ADA requests or grievances, please contact Addison Jones, client relations manager by email at AJones@HazeldenBettyFord.org or phone 651-213-4655.
---
To be eligible for continuing education credit, participants must be present throughout the entirety of the training.
The Hazelden Betty Ford Graduate School of Addiction Studies, provider #1487, is approved to offer social work continuing education by the Association of Social Work Boards (ASWB) Approved Continuing Education (ACE) program. Organizations, not individual courses, are approved as ACE providers. State and provincial regulatory boards have the final authority to determine whether an individual course may be accepted for continuing education credit. Hazelden Betty Ford Graduate School of Addiction Studies maintains responsibility for this course. ACE provider approval period:11/22/23-11/22/26. Social workers completing this course receive 13 continuing education credits.
The Graduate School is an NBCC approved Continuing Education Provider, ACEP # 6547, and may offer NBCC-approved clock hours for events that meet NBCC requirements. The ACEP solely is responsible for all aspects of the program. The Graduate School is approved to provide continuing education by CAADE Provider # CP20 975 C 0325, CCAPP Provider Number 1N-88-860-1123, CADTP provider # 125, and CA BRN CEP 16722.
Participants are required to keep their certificate for a minimum of six years. For information about this continuing education program, please contact the Hazelden Betty Ford Graduate School of Addiction Studies, P.O. Box 11 CO9, Center City, Minnesota 55012, 1-651-213-4538.