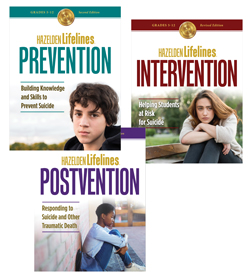 Hazelden Lifelines® Trilogy 3-Day Virtual Training
All trainings are held 10 a.m.-4:30 p.m. Central
2024
April 16-18
October 1-3
Earn 18 clock hours upon completion of training
Curriculum and Training Bundle: $1,195 per person. Includes Prevention, Intervention and Postvention facilitator guides, DVDs and USB flash drives with reproducible materials. Free shipping in US with purchase of curriculum and training bundle. Taxes and fees still apply.
Call 1-800-328-9000 to register.
---
From 2009 to 2019, the share of high school students who reported persistent feelings of sadness or hopelessness increased by 40% to more than 1 in 3 students, according to a public health advisory issued by the US Surgeon General.
Hazelden Lifelines is designed to support youth at all stages. The program teaches adults how to use the "Tell Me More" intervention to support youth through mental health challenges.
I've purchased Hazelden Lifelines. Why should I invest in specific training?
During this interactive training, a Hazelden Prevention Specialist will provide an in-depth overview of the Hazelden Lifelines curricula, providing you with the knowledge to facilitate the program for students in grades 5-6, 7-10, and 11-12 in your school or community.
Designed to support your school's prevention and education goals and backed by 20 years of research, this program empowers communities to:
Build community supports for teens and their mental health
Implement new programming
Partner with other organizations serving young people and families
I haven't purchased Hazelden Lifelines. What is it?
The Hazelden Lifelines Trilogy is a unique collection of programs for middle and high school students that address the important topic of teen suicide: from prevention to intervention to response.
This newly revised version includes updated language and new topics to reflect today's youth culture. Included in this collection are three programs:
Lifelines Prevention: Educates students, faculty and parents on suicide prevention
Lifelines Intervention: Helps students and faculty in middle and high schools identify suicide warning signs
Lifelines Postvention: Provides faculty in middle and high schools the tools to respond to suicide and traumatic deaths
Call 1-800-328-9000 to register.
Questions, ADA requests or grievances, please contact Mary Tripp, client relations manager by email at MTripp@HazeldenBettyFord.org.
To be eligible for the 18 clock hours, participants must be present throughout the entirety of the training.
Thank you for your interest in the Hazelden Lifelines program training. Even more, thank you for your commitment to helping young people in your community. To learn more about the training and customization options, please fill out the form and a Hazelden Betty Ford representative will contact you shortly.