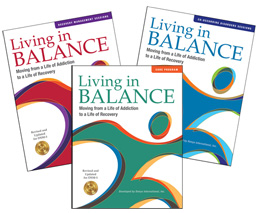 Moving from a Life of Addiction to a Life of Recovery
Two-Day Virtual Training
All trainings are held 9 a.m.-3:30 p.m. Central
2024
March 6-7
11 CEs
for the following boards:
National Board for Certified Counselors (NBCC)
Association of Social Work (ASWB)
California Counselors and LMFT (CAADE,CCAPP, CADTP)
California RN's (CA BRN)
Print Materials and Training Bundle: $2,795 or $2,495 for groups of three or more from same organization. The cost includes the training fee and the complete Living in Balance Curriculum Collection (Core Program, 3 Manuals, USB and medallions.)
Digital Materials and Training Bundle: $1,800 per person. Includes the training fee and a year-long Advanced subscription to the Learning & Resource Center's Behavioral Health curricula: Living in Balance, The Mental and Emotional Health Series, and Living Skills.
Free shipping for purchase of training, facilitator guide and workbooks. Taxes still apply.
Call 1-800-328-9000 to register.
---
Finding an evidence-based program that effectively aligns with all your clients' treatment needs isn't easy. From group and individual settings to focusing on physical health, psychosocial and living skills, and meeting clients with the level of care they need—the options are overwhelming.
With Living in Balance, you'll have the flexible, customizable and comprehensive evidence-based program you need to help clients at any stage of recovery.
I've purchased Living in Balance. Why should I invest in specific training?
Our clinician and trainer will deliver a live and interactive virtual seminar to explore effective clinical applications and ensure fidelity of your Living in Balance programming.
Training Objectives
Describe the philosophy, approach and essential components of the Living in Balance program
Teach the clinical skills needed to effectively facilitate the Living in Balance curriculum
Provide the core delivery format for multiple sessions, incorporating creative elements to help clients connect with core concepts
Demonstrate ways to customize the program based on delivery environment, client needs and client variables
I haven't purchased Living in Balance. What is it?
Living in Balance is an evidence-based program that draws from cognitive, behavioral and experiential treatment approaches with a strong emphasis on relapse prevention. The program uses didactic education and instruction, written exercises, group process interaction through role-play and discussion, relaxation and visualization exercises, and group-oriented recreational therapy exercises.
The program includes three separate, yet related, curricula that help you:
Build a solid foundation of essential education and skills for clients new to treatment and recovery with the Core Program.
Teach clients the skills that will help them thrive in ongoing recovery with the Recovery Management sessions
Share strategies clients need to manage co-occurring substance use and mental health disorders.
Call 1-800-328-9000 to register.
Thank you for your interest in the Living in Balance program training. Even more, thank you for your commitment to helping foster recovery in your community. To learn more about the training and customization options, please fill out the form and a Hazelden Betty Ford representative will contact you shortly.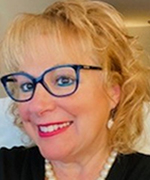 About the Trainer
Joyce Starr, Master Trainer and Consultant for the Consulting and Training Team at the Hazelden Betty Ford Foundation
Joyce Starr is currently a Master Trainer and Consultant for the Hazelden Betty Ford Foundation. She is retired from the State of Ohio, Ohio Department of Mental Health and Addiction Services and previously served as their Chief of Recovery Supports and Housing. Previously, Ms. Starr served as Chief of Treatment Services and also served as Chief of Treatment and Recovery Services with ODADAS, monitoring substance abuse treatment statewide including Therapeutic Communities. She has 40 years in the field of Substance abuse with experience with public and private sector. Prior to this appointment, Ms. Starr served as The Substance Abuse Administrator for the Ohio Department of Youth Services for eight years and was Superintendent of a juvenile facility, with a focus on re-entry and treatment. In addition, Ms. Starr was Vice-President of Parkside Recovery Services, a residential treatment center, where she served in administrative capacities during her thirteen-year stay. Ms. Starr began her career working for Project Linden Inc., where she served as a counselor, working with parole and probation individuals in the field of substance abuse and recovery. Ms. Starr had a 30-year history of being a Licensed Social Worker and a Licensed Independent Chemical Counselor with supervision privilege along with an international certification for clinical supervision.
Questions, ADA requests or grievances, please contact Addison Jones, Client Relations Manager by email at AJones@HazeldenBettyFord.org or phone 651-213-4655.
---
To be eligible for continuing education credit, participants must be present throughout the entirety of the training.
The Hazelden Betty Ford Graduate School of Addiction Studies, provider #1487, is approved to offer social work continuing education by the Association of Social Work Boards (ASWB) Approved Continuing Education (ACE) program. Organizations, not individual courses, are approved as ACE providers. State and provincial regulatory boards have the final authority to determine whether an individual course may be accepted for continuing education credit. Hazelden Betty Ford Graduate School of Addiction Studies maintains responsibility for this course. ACE provider approval period:11/22/23-11/22/26. Social workers completing this course receive 13 continuing education credits.
The Graduate School is an NBCC approved Continuing Education Provider, ACEP # 6547, and may offer NBCC-approved clock hours for events that meet NBCC requirements. The ACEP solely is responsible for all aspects of the program. The Graduate School is approved to provide continuing education by CAADE Provider # CP20 975 C 0325, CCAPP Provider Number 1N-88-860-1123, CADTP provider # 125, and CA BRN CEP 16722.
Participants are required to keep their certificate for a minimum of six years. For information about this continuing education program, please contact the Hazelden Betty Ford Graduate School of Addiction Studies, P.O. Box 11 CO9, Center City, Minnesota 55012, 1-651-213-4538.